This shop has been compensated by Collective Bias, Inc. and its advertiser. All opinions are mine alone. #SkinEssentials #CollectiveBias
Since I graduated last Friday from Grad School (yay!), this is the first time in a long time that I won't be going back to school this fall. I'm a little bummed to be missing the official 'first day of school' but am excited to share a few tips and tricks that'll help you during this busy season!
I am such a deep sleeper and don't like waking up early. I'm also a notorious snoozer, so I am the queen of waking up five minutes before class, throwing on a t-shirt and jeans with a fresh face. Today I have a few quick and easy ways to take care of your skin during this busy school season!
(Go ahead and shop these products using this fun shoppable image below! You can hover over the shoppable image to shop the products!)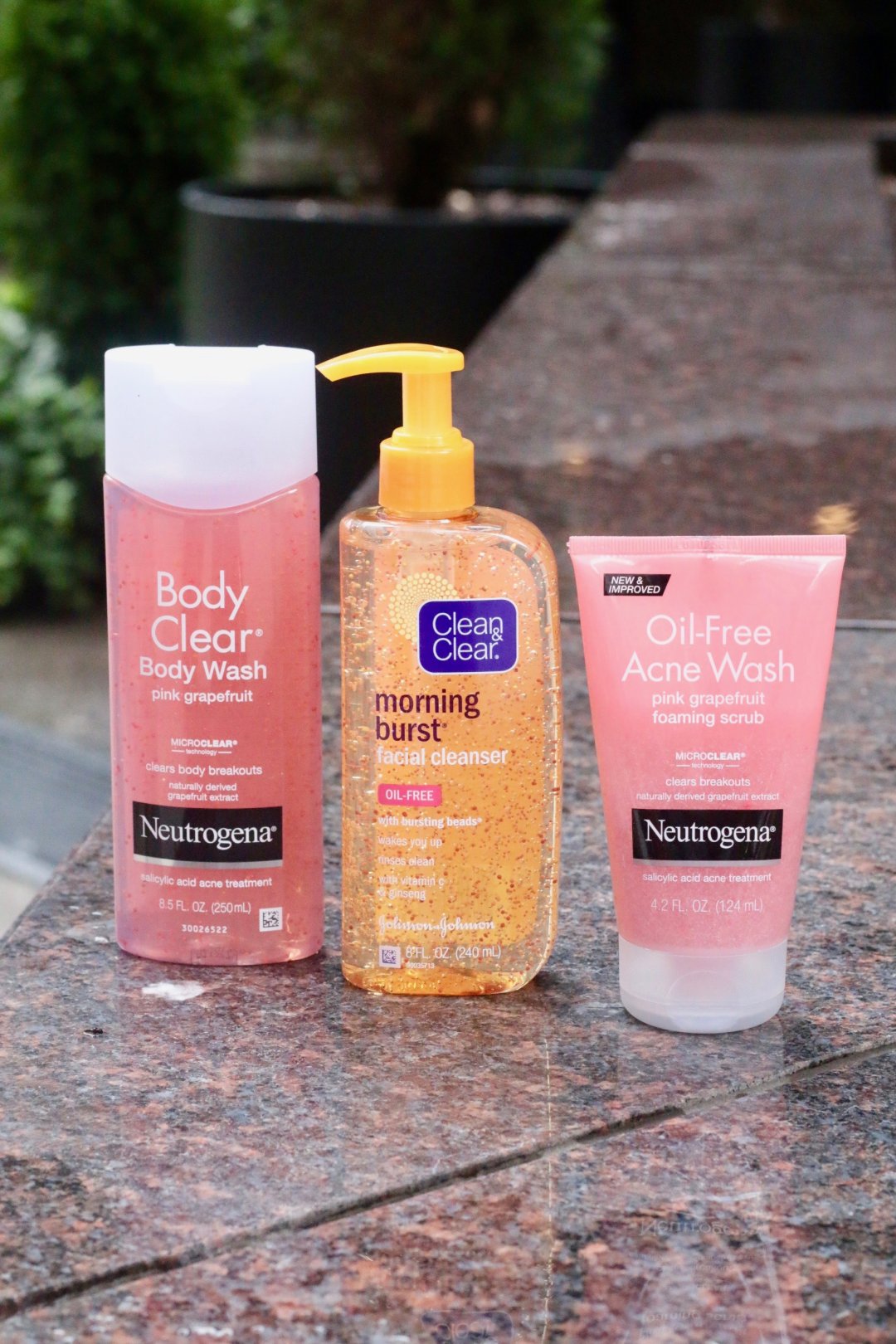 College is a time of stress, bad eating and late nights. When I was in college I would have such bad break outs. And every girl knows that when you have a zit, that requires make-up, which takes up time! Get ahead of zits by starting your morning with Clean & Clear® MORNING BURST® Facial Cleanser. This product is not only AMAZING, it's also super affordable. The unique gel cleanser with Vitamin C and Ginseng wakes you up with a fresh citrus scent while soft BURSTING BEADS® burst with energy and vitamins, leaving skin feeling clean and energized! Having this zesty smell on my face first thing in the morning helps wake me up and feel more refreshed!
Another tip if you're trying to save time is washing your face in the shower. I prefer washing my face in the shower since I feel like I can wash the soap off better and my pores are more open due to the warm water. I use two different face washes, my shower face wash is the Neutrogena® Oil-Free Acne Wash Pink Grapefruit Facial Cleanser.
This facial cleanser clears breakouts with an uplifting blast of pink grapefruit. What girl doesn't want her beauty products to be pretty and pink?! With maximum strength Salicylic Acid acne medicine boosted by MicroClear® Technology, this acne wash treats and helps prevent breakouts – even blackheads. The Neutrogena® Oil-Free Acne Wash Pink Grapefruit Facial Cleanser also contains vitamin C, which helps eliminates oil and dirt. It's so important for all of my products to be oil-free because I am so oily! I need all the help I can get.
After I wash my face in the shower, I make sure I have a good body wash. I love the smell of Neutrogena®'s grapefruit products so my go-to body wash is Neutrogena® Body Clear® Body Wash – Pink Grapefruit. Again with the oil-free but this oil-free acne body wash treats and helps prevent body acne with an uplifting blast of pink grapefruit (smells AMAZING). This oil-free formula features the maximum strength acne medicine, Salicylic Acid, boosted by oil-blasting MicroClear® Technology. It's specially developed to treat body breakouts such as those on your back as well as break outs on your shoulders and chest.
The three products are things every college girl needs! It has a good clean smell and you feel like you've been to the spa with how refreshed and rejuvenated you feel. You can find these three products at your local Target in the beauty aisle. At the Target on Charlotte Pike in Nashville, all of these products are right next to each other in aisle A6.
In addition to the three products above, there are a few more things you can do that are quick and good for your skin.
One big thing is taking your make-up off at night. Going to bed with a clean face is so important since your face is on fabric and the heat between the two can make your skin break out. You're more likely to break out if you have on a full face up make-up and your skin can't breathe!
Another tip that helped me was drinking lots of water. I was all about sodas and coffee and then realized I was majorly missing some H2O. I can tell such a huge difference in my skin when I drink water and try to drink a gallon a day (I pee a lot but my skin looks great!).
Lastly, find a good sunscreen. I didn't care about sunscreen when I was younger but the older I get, I put SPF 50 on my face and chest every day. I try to find it in a moisturizer so my skin is hydrated as well as protected!
You can find all of the suggested things above at a great price and at your local Target. Target has an app called Cartwheel. Download Cartwheel for rewarding ways to save at Target, and great offers during August on all their favorite Neutrogena® Cosmetics. Cartwheel also has some other killer offers for this week! For Neutrogena® cosmetics stop by Target, this weekend, Thursday-Sunday, and get 20% off any Neutrogena® cosmetics product. You also save 20% on Neutrogena® cosmetics every weekend in August, Thursday-Sunday, on Cartwheel.
For Neutrogena® facial skin care, buy 3 Neutrogena® facial skin care product, get a $5 gift card. If you like Clean & Clear®, buy one Clean & Clear® product, get one 25% off.
The semester is just starting so start the year off right with good beauty and skin products!
What's your go-to tip to maintaining clear, healthy skin during the school year? Share your tip with me in a comment below!
This post is sponsored by CLEAN & CLEAR® and NEUTROGENA®. I only recommend products I use personally and believe my followers will also enjoy! Some of the products mentioned were provided by CLEAN & CLEAR® and NEUTROGENA® for this review. #SkinEssentials